Website Grand Opening - Beard, Sweat, and Tears!
Lots of beard sweat, and tears went into putting our site together. We are excited to work with you making products you love. 
Things we have added:
In house Created art
Selected stock art
Cosmic Beard Branded Apparel and Home Accessories. 
Not like any other T-Shirt printing company
As a graphic designer and photographer I am grateful that Cosmic Beard brought me on board. We actually have been doing shirts now for a few months, and already have crossed over 150 shirts. 
For some that might seem like a short time to be knowledgeable about using a heat press, and other parts of the apparel making process but I come from a background where I was using a 4ft x 8ft hot press putting artwork through a process you could hang on your wall.  That and I also have almost 15 years of graphic design under my belt, and 2 years of photography.
US working with YOU
You can be assured that we are not only real people running this company but we have families of our own, and we understand what it means to be a customer, nervous to start a new process.
You're welcome to reach out to us, have a conversation, find out what it would take and what's the process like to start a neat project you have. We have a great sense of humor and a sense for business.
Shana
Creative Director
---
Also in News
At Cosmic Beard Designs, we can help you with this. We understand the weights and the thickness of different fabrics. You might not know it, but some t-shirt brands label their shirts with, "ring-spun cotton", or "combed ring-spun cotton," or "ultra cotton." There are also the blended shirts that are a mixture of cotton, polyester, spandex, etc (all in varying percentages).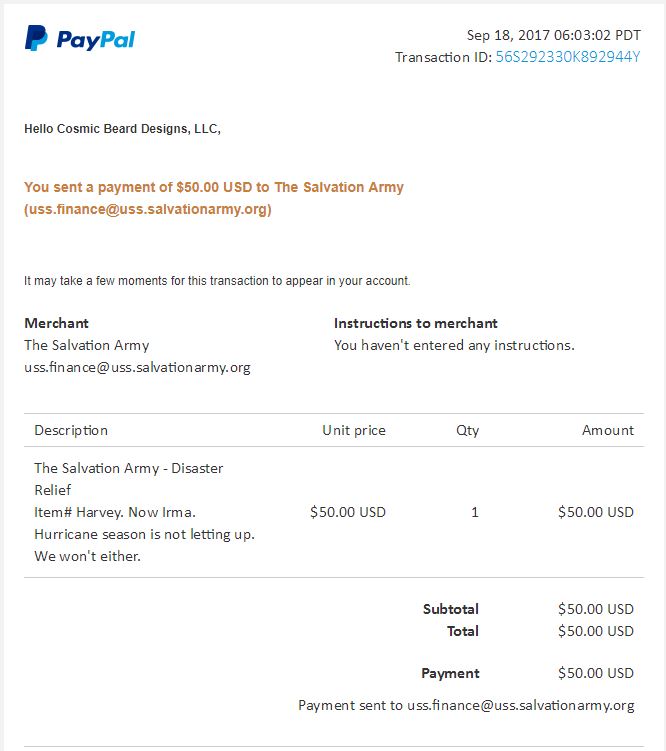 We want to thank our customers who purchased our fundraiser t-shirts a few weeks ago to help us support hurricane Harvey relief efforts.
For the short amount of time that we ran the promotion, we sold 5 shirts (which was great given that shortly after we started, there were TONS of other places selling shirts, etc).
Cosmic Beard, as promised, has donated 100% of the profits from the sales of those 5 shirts.  We chose to donate to the Salvation Army Hurricane Harvey relief fund