Cosmic Beard Donation - Hurricane Harvey Update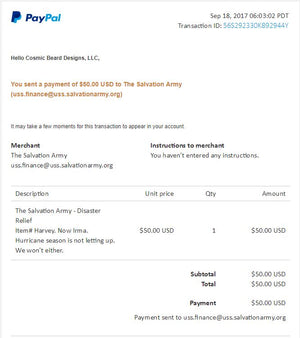 All:
We want to thank our customers who purchased our fundraiser t-shirts a few weeks ago to help us support hurricane Harvey relief efforts.
For the short amount of time that we ran the promotion, we sold 5 shirts (which was great given that shortly after we started, there were TONS of other places selling shirts, etc).
Cosmic Beard, as promised, has donated 100% of the profits from the sales of those 5 shirts.  We chose to donate to the Salvation Army Hurricane Harvey relief fund.
Again, THANK YOU to our customers who helped out!  There are many people who will benefit from your generosity!
---
Also in News
At Cosmic Beard Designs, we can help you with this. We understand the weights and the thickness of different fabrics. You might not know it, but some t-shirt brands label their shirts with, "ring-spun cotton", or "combed ring-spun cotton," or "ultra cotton." There are also the blended shirts that are a mixture of cotton, polyester, spandex, etc (all in varying percentages).
Lots of beard sweat, and tears went into putting our site together. We are excited to work with you making products you love...